THE ST. THOMAS POETRY SERIES
The St. Thomas Poetry Series: "excellence in both poetry and design" (Jeffery Donaldson, University of Toronto Quarterly).
Of the first fifteen books: "these are exquisitely produced books, with each cover adorned with a hand-printed impression from remarkable wood engravings by Nancy Ruth Jackson" (Klay Dyer, Journal of Canadian Poetry).
---
NOW PUBLISHED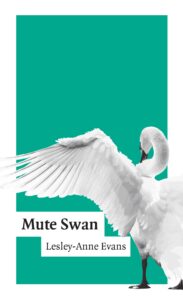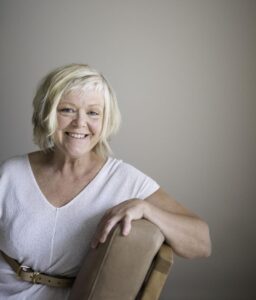 Lesley-Anne Evans, an Irish-Canadian poet, writes from and stewards Feeny Wood, a contemplative Christian woodland retreat in Kelowna, B.C., on the traditional territory of the Syilx Okanagan Nation. Her periodical publications include The Antigonish Review, Cascadia Review, Contemporary Verse 2, Faith Today, and Presence Journal. She helped found Red Couch, an art gallery for marginalized artists, and co-created SEE:kelowna, a museum exhibit sharing stories of homelessness. Mute Swan is her first collection of poems.
Mute Swan explores the landscape of the voiceless—voices misnamed, silenced, discounted, or subverted. Within a context of historic and contemporary Christendom, yet blurring perceptions of both, the poet offers a story of spiritual awakening and "unmuting." Through her willingness to look directly at our human experience of injustice, impermanence, longing, beauty and love, the poet writes a way toward spiritual freedom. Mute Swan is a love letter calling us home.
Mute Swan was launched on December 11, 2021. You can view this 45 minute event here: http://youtu.be/edlHlvN0U4g
For the first review of Mute Swan by Cole Klassen, see the Ormsby Review at this link:
https://ormsbyreview.com/2021/11/13/1284-klassen-evans-swan/
Like our other recent publications, Mute Swan can be purchased for $20. With mailing expenses of $5 in Canada, the total cost is $25.
See our Order page to begin. Payment can be made through Paypal, Interac E-Transfer, or cheque.
"These are powerful, sometimes harrowing testimonies, woven together in fresh, often keenly beautiful poetry. A brave, original, memorable collection." Malcolm Guite, Cambridge Univ.
 "Like the "Mute Swan" of the title, the poet participates in both contemplative silences and song, becoming at last "unmuted," fiercely present, committed to justice-making as well as to the mysteries of being to which words gesture and point." Susan McCaslin, Langley, B.C.
 ". . . earthy, raw prayers and rich birthing imagery, inviting the reader to plunge into the gorgeous messiness of life. These are poems where everything belongs." Christine Valters Paintner, Galway, Ireland.
 "The poems collected in Mute Swan don't just remind us that "everything is holy", but the act of reading moves me to touch that experience for myself . . . a story beckoning me to a supper table where even the most rejected, fearsome and lonely parts can know home." Gareth Higgins, Asheville, N.C.
COVER DESIGN BY ANDRA MARES
REVIEW:
"The Natural Calls Forth the Supernatural: A Reflection on Mute Swan by Lesley-Anne Evans"
by Diane Tucker
Woman raised in sexist, moralistic, "Christian" subculture rejects it but embraces a recontextualized faith later in life: it's not a new story, but it's certainly expressed with meticulous brilliance in Lesley-Anne Evan's vivid, highly evocative spiritual memoir in poems.
We begin with the poet as a preschooler. She encounters the intoxicating sensuousness of a garden and a fresh tomato, a complete physical experience with "no shame." It's a glorious picture of the direct, filterless experience of a child's senses.
Our heroine is plucked unceremoniously from this Edenic state to be raised in a bodiless, emotionless, legalistic religion that produces nothing, we are told, but "rage and exhaustion / in being good". Our heroine is a human body expected to experience the world and God while disregarding that very body. As she grows up, she discovers this impossible situation, and "waking to this truth / is an unhinged oyster, / coyote's quiver/at the threshold of a gate."
The divine being experienced in adulthood by the poet is addressed as the Beloved in a sweet, new-romance tone with uncloying tenderness, as in "when moon is Love's wafer / on the outstretched tongue / of night."
Later she connects profoundly with Mary, of course, the human body that bore the incarnate body of God into the physical world and to many represents the Divine Feminine.
So the poet begins to embrace a physical life, know her body and the created world, find joy in somatic experiences. All feels realer, of course, than the empty legalism of her childhood.
As she abandons herself to this life of the senses, she meets her "Beloved": God's presence in created things: "Beloved, now that I am blank/ I am surfacing."
This moment seems a letting go, an abandonment of striving, to see what will arise on its own to be received. It's an intriguing recasting of Jesus' statement: "Very truly I tell you, unless a kernel of wheat falls to the ground and dies, it remains only a single seed. But if it dies, it produces many seeds." (John 12:24) As she says to the mute swan of the title, "You may feel as if you are dying but you will live…"
All of this is expressed in crisp and quietly intense poems that keep one reading. The manuscript as a whole might have packed a more consistent punch if it were shorter; the inclusion of a number of overheard conversations seems more like distraction to this reader and might have been better served in another manuscript, for example.
But life is messy, no? Our soul's growth happens in the welter of life – jobs and grocery store trips and small talk. Perhaps I should find it hopeful that such spiritual learning and literary quality has flowered in life's mess and hasn't seemed to require some unearthly calling.
That's an encouragement to listen even more deeply to Lesley-Anne Evans' compelling poetic voice, the many lovely textures and notes intoned by her Mute Swan.
Celebrating the 100th Birthday of William Frank Blissett (b. 11 October 1921)
This 32 page pamphlet of poems, images, and recollections celebrates the one hundredth birthday of the remarkable William Blissett: literary scholar, inspiring teacher, faithful Anglo-Catholic, bibliophile, patron of the arts and of poets, baseball fan and opera aficionado.
Contributors include Thomas Dilworth, Rowan Williams, John Reibetanz, Richard Greene, John Terpstra, Jeffery Donaldson, Luke Hathaway, Alison Goodwin, and many others. See table of contents below.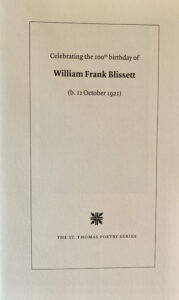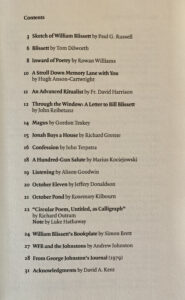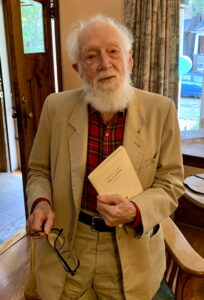 The pamphlet is available for $7.50 each + postage of $2.50 for one copy in Canada. Please be in touch via the Ordering page on this website.
Published in December 2020
Cover designs by Andra Mares.
Wild Hope: John Terpstra       Second Gaze: Margo Swiss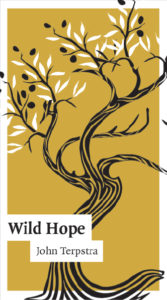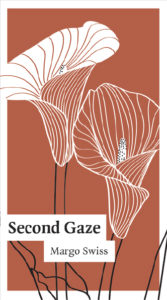 Each book retails for $20. Postage is extra and will vary according to the size of the order and destination of the package. In Canada, the cost for one book is usually $5, and $9.00 for two.
Please see our Ordering or Contact page to be in touch about ordering these books.
In lieu of launch, please visit YouTube to hear the poets read from their books. The readings are about 20 minutes in length.
John Terpstra reads from "Wild Hope":
https://www.youtube.com/watch?v=dSSTJT8ibKE
Margo Swiss reads from "Second Gaze":
https://www.youtube.com/watch?v=QMH8gHn4ni0
For an article about the series in The Anglican (newspaper for Diocese of Toronto) for April 2021, click on this link:
Published in November 2020:  Poems for a Birthday
A dozen poems, including two unpublished poems by Richard Outram, in honour of the 90th birthday of Hugh Anson-Cartwright (22 November 2020).
Poets contributing to this 24 page pamphlet: John Reibetanz, Bernadette Rule, Jeffery Donaldson, William Aide, Peter Sanger, John Terpstra, Margo Swiss, Richard Greene, Gordon Johnston, and Luke Hathaway (formerly Amanda Jernigan).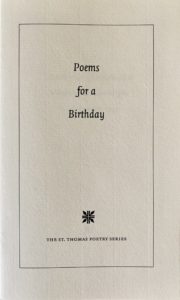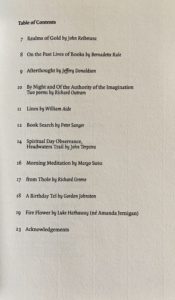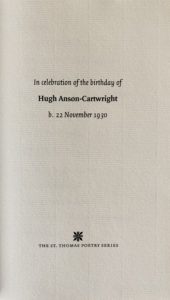 Available now for $5.00 plus postage ($2.50 per copy in Canada). Please see our Ordering or Contact page to initiate an order.
LIMITED EDITION BROADSIDE
George Bowering, a long-time admirer of Margaret Avison, contributed a poem in her honour ("The Weight") to the special issue of Canadian Poetry marking the centenary of Avison's birthday in 1918 (Nos. 80 & 81, 2017). He then consented to have the poem printed as a limited edition broadside by Stan Bevington at Coach House (100 copies) for distribution to those attending the event celebrating Avison's centenary held at St. Thomas's Church in April 2018. See tab under "Recent Events."
The remaining copies of this signed broadside (sample shown below) are available for sale at $30 each, plus postage.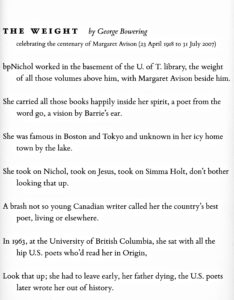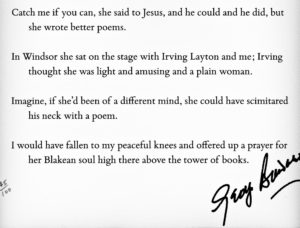 The St. Thomas Poetry Series:  Background
Origins
Poetry readings at St. Thomas's Anglican Church, Huron Street, Toronto, began in 1988 in connection with the launch of the anthology Christian Poetry in Canada, ed. David A. Kent (ECW Press, 1989; rpt. in 1993 with The Anglican Book Centre) and featured five poets: Robert Finch (his final public reading at age 89), John Reibetanz, Tim Lilburn, Maggie Helwig, and Margo Swiss. Spring and, later, fall readings soon developed and then continued on a regular basis for several years. Many well-known Canadian poets visited during that time and afterwards, including James Reaney, Colleen Thibaudeau, J. M. Cameron, Anne Corkett, Joy Kogawa, George Johnston, John Reibetanz, Mia Anderson, Pier Giorgio di Cicco, Robyn Sarah, Jeffery Donaldson, Gordon Johnston, Richard Greene, Alice Major, Barry Dempster, Gail Fox, Douglas Lochhead, Bernadette Rule, Richard Outram, Susan McCaslin, and many more.

---
The Next Step
The publication series began in 1996 and was intended to draw increased attention to Christian poetry in Canada. As a result, the readings after that time were often connected with the launch of new books. These new books were not exclusively from our own series, as we were pleased to help launch, for example, some of John Terpstra's publications with Gaspereau Press of Nova Scotia. In November 2008, in the 20th year of the series, John Robert Colombo, Barry Dempster, W. J. Keith, and John Terpstra were invited to help launch our twenty-fifth publication, Swim Class and Other Poems by George Whipple. In 2013 the 25th anniversary was celebrated with readings by John Reibetanz, Richard Greene, Bernadette Rule, Margo Swiss, Philip Gardner, Suzanne Collins, and John Terpstra. A special pamphlet was also published to mark the occasion: Poems for an Anniversary. A special reading to belatedly mark the centenary of George Johnston's birth was held in 2014 and featured four poets, two of George's sons, and Professor William Blissett. The centenary of Margaret Avison (1918-2007) was celebrated in April 2018 with eight readers participating.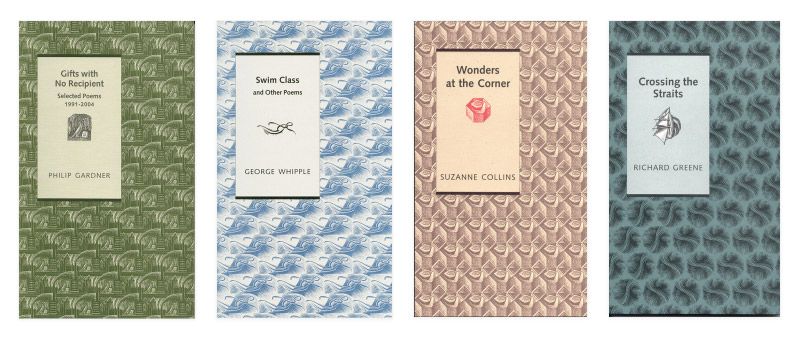 ---
Local Support
The poetry series has always identified itself with St. Thomas's Anglican Church on Huron Street in Toronto. Both former rectors, Fr. Roy Hoult and Fr. Mark Andrews, have supported the series by allowing it to use the church and the hall for readings and receptions. There have been many loyal parishioners who have supported the series through their volunteer help, including antiquarian bookseller Hugh Anson-Cartwright (who suggested the elegant dimensions of the first books), professional editor Pat Kennedy, photographer Linda Russell, parish adminstrator Barb Obrai, Willem Hart, the late Bill Martin (who recorded many of the early readings), and John Meadows.
All the books may be seen in the display case at the rear of the church. If examined, you will see that the books also prominently feature the elegant logo that Alan Fleming designed for the parish centenary celebrations in 1974. It appears at the top of this page: a carpenter's square with four spear tips.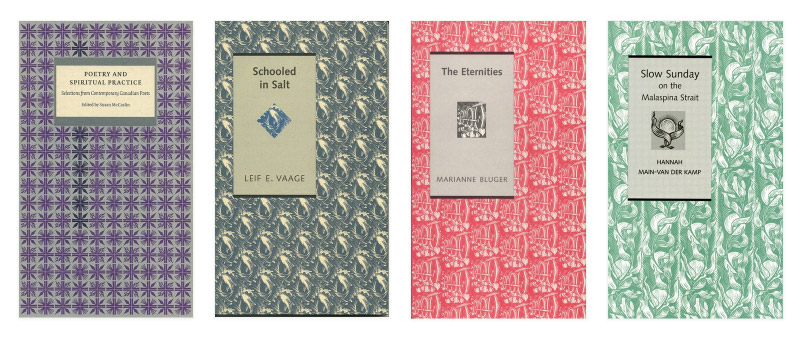 ---
Design and Production
The St. Thomas's books are all printed on our neighbour's presses, Coach House Printing, and its proprietor, Stan Bevington, worked with Nancy Ruth Jackson to ensure the much admired design quality of the books.
Until 2020, with the sole exception of Benedict Abroad (whose cover was designed by Barbara Howard), the covers for books in The St. Thomas Poetry Series have been designed by Nancy, who now lives in Montreal after years living in New Jersey as a glass blower and before that many years working in the publishing industry in Toronto. The books have been produced at Coach House Press under the direction of Stan Bevington, and in several cases the covers were individually printed by Stan directly from Nancy's wood engravings. Nancy's designs moved away from engravings and toward repeating patterns on the covers with the McCaslin anthology of 2002. Her approach underwent a further change with the Johnson and McCaslin books of 2014 and with Di Cicco's Mystic Playground (2015).
With the launch of John Terpstra's Wild Hope and Margo Swiss's Second Gaze (2020), Andra Mares has taken on the cover design role and our books will therefore undergo a further change in styling.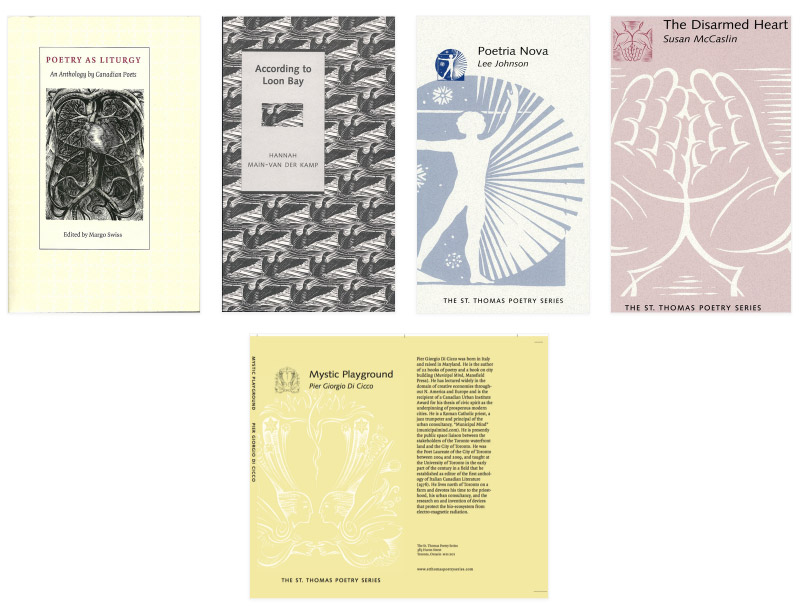 ---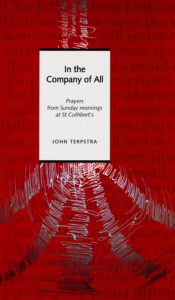 Overview
The series is intended to be a non-profit venture, all proceeds from the sales of one book being used for the publication of the next one in the series. Generating income has always been a challenge, since poetry of any kind is not a popular genre and religious poetry is its least popular subset. Nevertheless, it is fair to say that all across Canada among readers of poetry there is now a strong association between The St. Thomas Poetry Series and poetry of high quality.
To access the website of St. Thomas's Anglican Church, click here